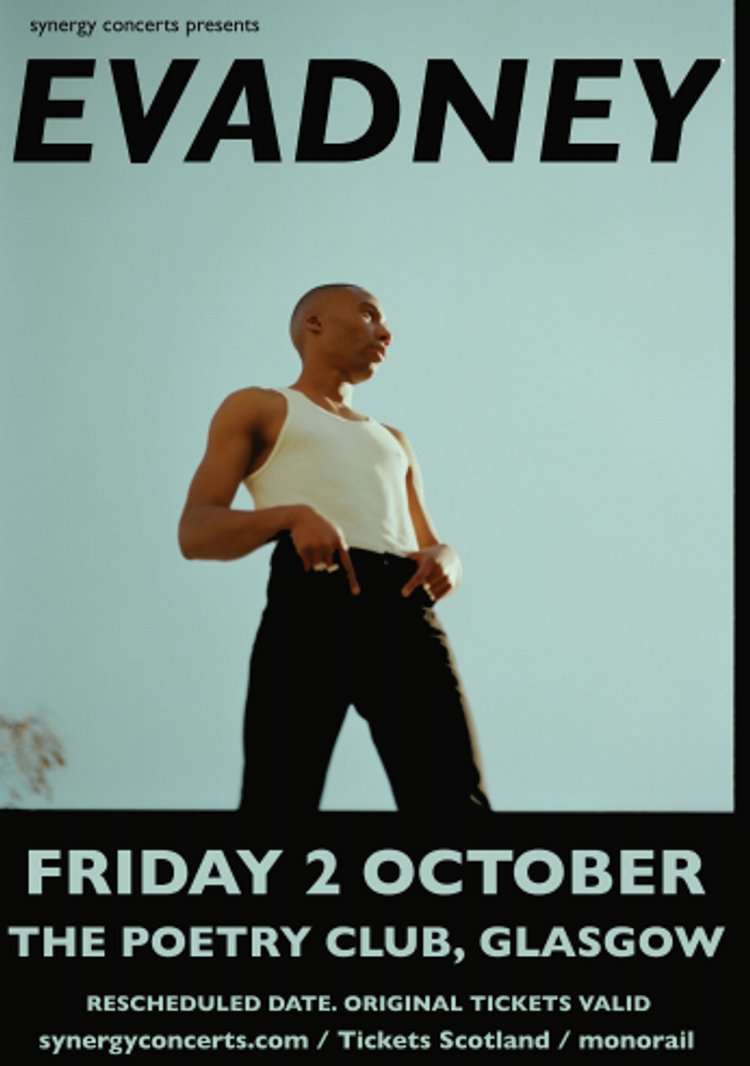 Synergy2 presents:
Evadney - New Date: All original tickets remain valid
Evadney
Buy Tickets
Growing up in the UK in a big Caribbean family, Evadney's sound has been shaped by a variety of different sounds, from hearing old school soca and calypso tunes at family parties, to his love of bold artists like Bjork, Kate Bush and Grace Jones, and later studying the likes of John Cale, Stockhausen and Musique concrète during his MA in Music Composition at Goldsmiths University. "My mum is from Jamaica and my dad is from Barbados so island life is in me. Being at the sea triggers a lot."
Now splitting his time in Brighton between making music, working part time at a charity organisation and DJ'ing at the weekends, Evadney is set to be a bold new voice on the UK music scene, bringing with him a new world of melancholy, narrative-driven pop.
Debuting on Black Acre earlier this year, Evadney's music is ultimately inspired by the politics of sexuality, identity and his own intersectionality. Electronic, poetic, melancholic and cinematic, his productions are both leftfield and pop whilst always featuring a compelling narrative.
Debut EP 'Sold Love, Sold' consumes you in one swoop across a 3 track electronic-pop odyssey. Throughout his distinct voice acts as the guiding force, weaving between driving electronic elements, subdued rhythms and almost beatless moody textures. He says "I couldn't find an open reference for the black gay male when I was growing up. As it became my experience it also became my struggle." On 'I Think Of Being In Love', Evadney's vivid storytelling flows effortlessly throughout, as he sings about believing in love enough to find it and explore it. 'Who'll Raise You?' acts as an exaggerated version of love, with its possessive flavours of infatuation, obsession and lust. Whilst 'Jamaica' is about navigating the sea of grief that followed his grandmother and aunt both passing away.
Speaking about his second EP 'The Unfurls', he says "its about states of transformation, into more beauty, more knowing and more strength to create and move the pieces of my life. When I think of what is important for me to be doing in my music right now, it is to unfurl and to be seen as who I really am so it happily makes sense to me that these songs are each an embodiment of that". Echoing piano keys and melancholic vocals murmur sporadically throughout '4 Years', leading into 'Anchor Me' which opens with quivering organ chords until Evadney's exquisite voice sings poetically. A beautifully composed song that lowers your guard before inducing goosebumps when you least expect it, 'Take Your Eyes From Us' comes complete with esoteric harmonies, otherworldly synths and rumbling bass. Tying everything together, 'Kisses' generates suspense from the off using subtle atmospherics and piercing noises, continuing to build in tension as various different layers of sound ebb in and out.