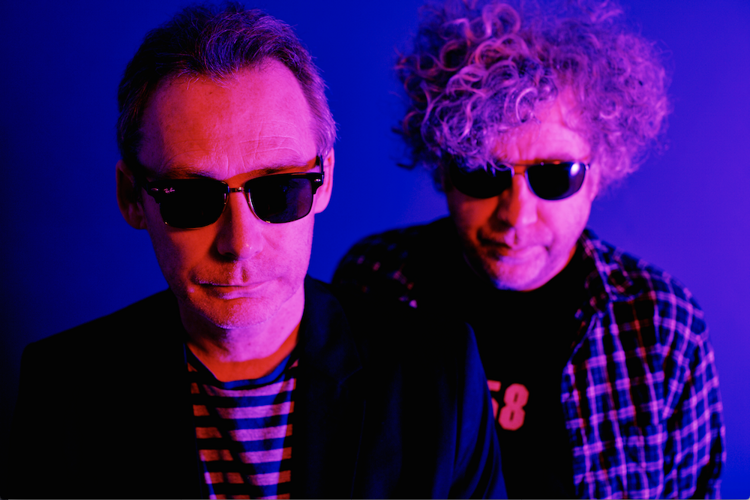 Synergy2 presents:
The Jesus and Mary Chain
The Jesus and Mary Chain
Rescheduled due to Covid-19 - New date TBC
Buy Tickets
In association with Regular Music
On Sale Fri 11th October, 10am
Still startling, still compelling and, to a certain extent, still fighting, The Jesus and Mary Chain are a force of nature, and perhaps one of pop's last enigmas. Like the punks who inspired them, they remain 'the misfits of the music world', and while their name might have been synonymous with chaos during the 80s, they were and will always be, as Jim Reid famously deadpanned, 'the best'. 
It's 35 years since brothers Jim and William Reid first revealed the dark magic they'd been conjuring up in their bedroom in East Kilbride, unveiling a mesmerising concoction of white noise and whispered lyrics, Spector rhythms, black leather and shadows. Their arrival would cut through mainstream pop culture like a razor, and, as they've proved with their most recent album Damage And Joy, that blade is as sharp as ever.
The Mary Chain have always been a band of contradictions; their 1985 debut Psychocandy saw them crashing the industrial influence of Einstürzende Neubauten into the bittersweet 'candy' of the Shangri-Las, creating an intoxicating sound that was theirs alone. With their erstwhile manager Creation boss Alan McGee stoking the flames (very much McLaren to their Sex Pistols) it's no surprise that they swiftly became one of the most revered – and feared – groups of their time. 
While Psychocandy, with Bobby Gillespie on drums and Douglas Hart on bass, is hailed as the group's landmark recording, it would be the Reids' brave, intense and darkly romantic follow-up that many truly took to their heart. Released in '87, Darklands drew a bold line under the recent past, showing not only the brothers' growing confidence and maturity, but also their fierce sense of autonomy. 
 A departure in every sense, Darklands saw Jim and William close ranks in the studio, playing all instruments themselves. Drums were replaced by a drum machine (reminiscent of their early Portastudio demos), and another 'instrument' to go was the howling feedback so associated with their music and live shows. The Reids were ready to do something fresh and express a different mood, but they also refused to do what was expected of them – and a feedback-drenched record would have been exactly that. 
Darklands featured such gems as 'April Skies', which would become their biggest hit, 'On The Wall', one of the Reids' earliest compositions and 'Nine Million Rainy Days' an obsessive love song lightened by a wry musical reference to the Rolling Stones' 'Sympathy For The Devil'. A defiant creative statement in the face of industry pressure and expectation, Darklands was also a statement that the Mary Chain were the Reids and the Reids alone, a sealed and intensely concentrated unit. Not easy, but worth it.
'We're cooped up together in this space called the Jesus and Mary Chain,' said Jim. 'Everyone thinks we do nothing but fight - and that is largely true - but we totally trusted each other, as we do now.'